Introduction
I hope you all are fine. Today I am going to share you a great news, this post will be helpful mainly for the ones who are going to do some start ups. Guys this is for you.
What is BizSpark?
Bizspark is software and services made for the start ups. As we all know world is following the entrepreneurs. So if you are in a thinking to give a try, I suggest you to start now itself. Because this is the perfect time. Trust me You will not get better time than this. And this service is started by the Microsoft. Yeah, I am sure we all are passionate about Microsoft. I always wonder what would we do, if there is no Microsoft? . Sorry I could never find any answer for that question.
Why join Bizspark?
There are so many benefits you will get if you join Bizspark. I am going to share you few.
You will get 150$ Azure credits/month
Free Microsoft's software's (For me this is so cool)
You will get this benefits for 3 years
Fantastic right? Billion thanks to Microsoft.
How to join Bizspark?
It is so easy to join Bizspark. Go to https://www.microsoft.com/bizspark/ and click on Join Bizspark.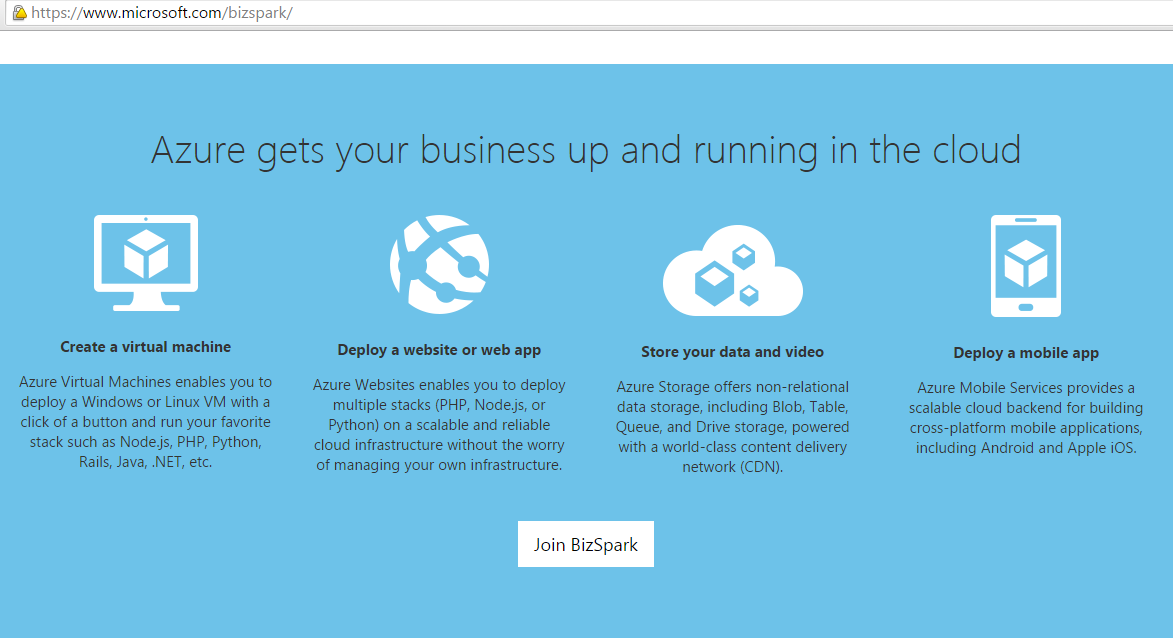 Now you will be redirected to https://www.microsoft.com/bizspark/signup/default.aspx. Just finish sign up and do the process mentioned there. That's all, you are about to get all the benefits.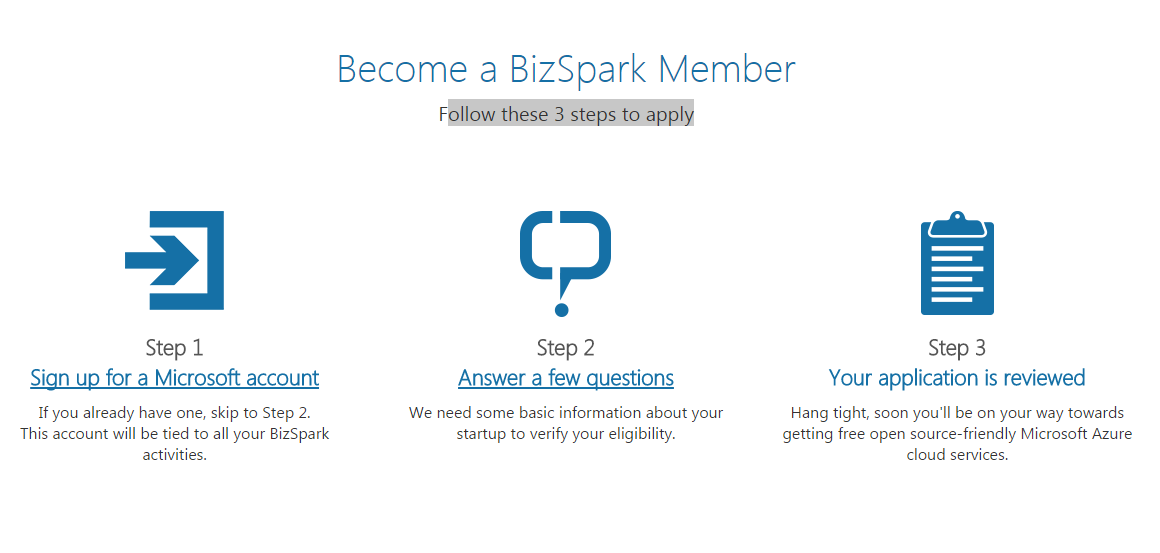 Need any help?
We are lucky we have enough good people in our world. In that category some people are legends. I am going to share you the contact of such a legend. He is such a good mentor, I am lucky to have someone like him in my contact list. His name is Prabhjot Bakshi. You can contact him though prabhjotbakshi@outlook.com. Now he has done a video on Azure for start ups. It is a great video, and you can find out all the needed information on that video. The video URL is Azure Video Playlist By Prabhjot Bakshi
Find out some Azure basics here: Azure Basics
Kindest Regards
Sibeesh Venu